As WWII ground to an end and Soviet troops moved westward toward Berlin, they took much of what fell into their grasp as a part of war reparations for a conflict that cost the Soviets the lives of 14,000,000 soldiers. Among the loot for the Soviets were 13 D-Type racers, including one driven by Hans Stuck, one of the Hitler's and the Nazi Party's favorite race car drivers.
In the intervening years, most of these V-12 Grand Prix cars were cannibalized, but not chassis #19, according to a story in the UK Telegraph.
Fortunately for fans of the open racers of the period, chassis #19 was found and rescued and has been in the hands of car collector Paul Karrasik since the mid 1980s. The car was fully restored to its previous glory by Croiswaite and Gardiner.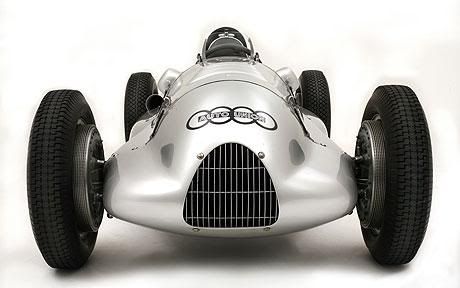 Photo Courtesy of Bonhams.
The D type was to be auctioned once before at a Cristie's sale in 2007 but was withdrawn before it could be hammered down because it was inadvertently misrepresented as chassis #21, the winner of the French GP at Reims-Gueux in 1939. This car actually finished sixth in that race. The car was designed by Ferdinand Porsche and is an important forerunner of modern racers because it was the first to place the engine behind the driver.
According to an excellent article on the background of the vintage Grand Prix car by David Lillywhite, part of the problem in identifying the car came from the team's practice of tearing down and rebuilding the cars after each race. Little care was taken to ensure that parts from the same car were used in the rebuilding. David's article about the recovered Auto Union Racer.
The vintage racer driven by Hans Struck will be auctioned by Bonhams & Butterfields in California at their prestigious Palm Beach auction on August 14. The 485 bhp racer was capable of 200MPH.
The orginal Telegraph story has some an excellent image of the restored car. The recovery of what almost certainly is the only D type left behind in the former Soviet Union has created quite a sensation. An excellent background article on the barn find appears in the Detriot Free Press. What a thrilling Barn Find!
This article written by Tampa English Tutor and freelance blogger Eric Anderson.