Sure, I like the Tesla roadster, but I am just not quite A-list enough to get one of the 300 or so copies that are garaged by Hollywood's eco-elite.
It's a sharp looking car but a production run of 300 does not really make it a car that is destined to be an exotic car driven by many people.
Producing something that is a little less of an exotic car is in the works from Tesla. They recently unveiled their Tesla Model S–which–forgive me–looks a little like a Buick Park Avenue to me. They are looking to produce 20k of them per year at a plant in Southern California.
The Tesla Model S–if it does not turn out to be automotive vaporware–is a prototype that has an anticipated sticker price of $57,400 and will travel about 160 miles on a single charge. Sticker before eco tax credits.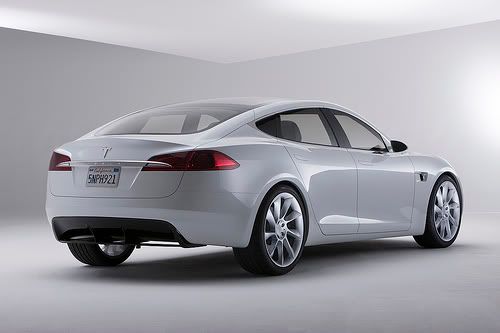 (Image credit to Tesla Motors media center.)
I'm sure that Hollywood stars with large families–read Brad and Angelina–will be getting the first several of these. Who knows maybe the OctoMom will be given one with a snazzy electric neon Babies on Board sign.
The LA Times reports that if it materializes, the Tesla factory will be the first in Southern California since GM shuttered a Van Nuys Firebird and Camaro plant in 1992.
No doubt Tesla will get gazillions in tax credits, making the plant a great boon for California's troubled economy.
It's a good move for Tesla and it will be interesting to see if they can produce cars in numbers above the hundreds. If the ever intend to compete seriously with other automakers, making a car in sufficient numbers to benefit from the economics of scale seems like a good idea.
If you're a regular fellow feeling the need to drive an exotic car, but without the A-list bank account–why not try an exotic car driving experience like DFW Drive Your Dream 2000 HP Tour or Gotham Dream Car Tour. Get behind the wheel of a bevy of dream cars all in one day!
The full Tesla model S press release
This post written by SE friendly web content writer Eric Anderson. Eric's recent writing projects include content for a mortgage broker in Clearwater Florida and web pages for a vintage designer jewelry website.