Assets seem to be depreciating at an alarming rate, and the exotic car collections of many celebrities are no exception.  According to a survey taken by City Car Club, a British car sharing business, many celebrities are seeing dramatic declines in the worth of their exotic car collections.
Reportedly, the hardest hit is soccer star David Beckham, whose collection of exotic cars has dropped in value by $254,500 in the last year.  There's no denying Beckham has great taste, but unfortunately, his Lamborghini has lost $46,500, his Hummer H2 has dropped by $77,000, and his two Bentleys have depreciated by more than $168,000.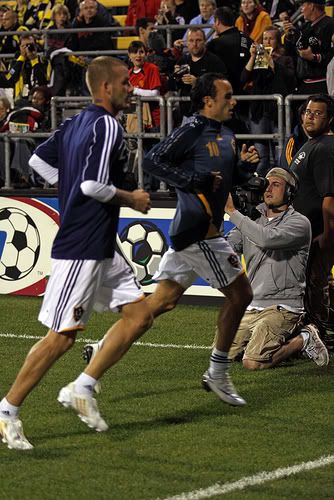 (Photo by David Heasley, courtesy of Columbus Camera Op on Flickr. Licensed Under Creative Commons Attribution Only.)
There are several other celebrities who have lost significant money to depreciation, including other British soccer players like Steven Gerrard, whose collection is down $225,500, and Rio Ferdinand, who saw his automobile investments drop by $222,600.
(Audi R8 at DFW Elite Car Club in Dallas, TX. Photo by Josh Davis Photography, Fort Worth, TX)
According to City Car Club, the significant drop in car values is related to the automobile market in general.  The credit crunch has made it difficult for buyers to obtain financing, and fewer people are buying new cars.  This may have caused new exotic cars to depreciate by as much as 40 percent in the first year.
Depreciation of exotic vehicles is one reason many exotic car fans are choosing to rent exotic cars, rather than buy their dream vehicles.  Buying an exotic car costs more than just the high initial purchase price.
On top of the six figures you usually have to plunk down to buy an exotic vehicle, there are financing costs, high-priced insurance payments, and expensive maintenance expenses. 
There's also the added hassle of trying to find secure, climate-controlled car storage in Dallas and other major cities.
For those who want to drive their dream car but don't want to invest in something that is likely to lose money, there are several great options.  Exotic car sharing clubs provide members with access to an entire garage of exotic vehicles without the associated ownership hassles and expenses.
Another great option is an automotive dream tour.  Dream tour participants get to drive several amazing cars in a single day.  These tours make a fabulous bachelor party activity or a great way to celebrate another special occasion.
Basically, options like these make it possible for regular people to drive cars like David Beckham without losing hundreds of thousands of dollars per year.  Options like exotic car rental let you have the celebrity lifestyle without the celebrity bankroll.
Kate Miller-Wilson is a professional freelance web content writer living in the Twin Cities. Visit her website or email her for information about her freelance writing services.